---
Our highly skilled doctors at Rangel Dental in Morristown, New Jersey, want our patients to feel informed and confident that they're getting the best treatment possible. We focus on meeting your needs with a thoughtful balance of compassionate care and skilled technique at our patient-centric practice. It's our goal to make you comfortable, so you have a relaxing and reassuring visit.
First Visit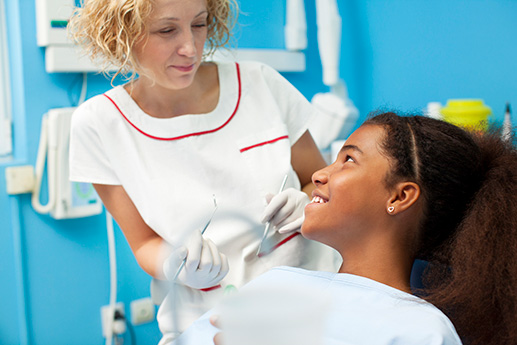 Arrive early for your first visit to allow time to complete the necessary paperwork for your patient file, or, for your convenience, please submit your new patient forms online before your first appointment. Bring your insurance card, photo ID, and a list of any over the counter or prescription medications you're taking. If you're not sure whether your procedure requires antibiotics beforehand, please contact us and we'll let you know.
During your first visit, your dentist performs an extensive oral evaluation to gauge your overall dental health and address any specific concerns you may have. This evaluation may include a review of your previous dental work, X-rays, and a detailed look at your mouth, teeth, and gums to pinpoint any trouble spots.
Depending on the reason for your visit, and how long it's been since your last dental appointment, we may perform a dental cleaning to remove plaque and polish your teeth. Before you leave, we'll go over a comprehensive treatment course, including what you can expect during each suggested appointment, treatment, or procedure included in your plan.
Patient Instructions and Information
Always practice good oral hygiene, and carefully follow all guidelines provided by our office. We'll furnish you with detailed patient instructions and additional information following every treatment or procedure we perform, including:
Fillings
Crowns and bridges
An inlay or onlay
Scaling and root planing
Root canal therapy
Tooth extraction
Implant treatment or surgery
Dentures
Whitening
Invisalign
We also provide information on periodontal disease, including a breakdown covering the early and advanced stages of gum disease, gingivitis, and early, moderate, and advanced periodontitis. Your oral health and overall wellness are important to us and essential to your physical health. Gum disease may be linked to cancer, diabetes, osteoporosis, and respiratory disease.
Pediatric Patient Information
Early dental care is crucial for children. Your child's first dental visit should occur between the ages of six months and one year. Although children lose their baby teeth, also known as primary teeth, it's still important to care for these teeth to maintain space for the adult teeth that emerge later. If not kept clean and healthy, primary teeth may develop decay, which can damage the permanent that haven't come in yet.
We provide instructions following all preventative pedodontics visits and dental procedures. We also offer detailed information concerning tooth eruption and shedding. The eruption of baby teeth occurs when primary teeth break the surface of the gums, which usually begins around the age of six months and continues until the age of three. Baby teeth shedding, which is when children start losing their primary teeth, typically begins at approximately age six.
Practice Policies
Based on the information provided to us by your carrier, we'll give you an estimate of the amount your dental insurance covers at the time of care. You're billed for any amount not paid by insurance. Please ask any questions you have about our financial policies or financing options prior to your treatment.
If you can't keep a scheduled appointment, please notify us at least 48 hours in advance. Cancellations made in less than 24 hours may be subject to a fee. If you don't see the information you're looking for on our patient information page or it's after hours, please contact us at 973-292-0001, so we can answer your questions.
Should you experience a dental emergency during or after office hours, you'll be seen as soon as possible. Call 911 or visit the nearest emergency room if you're experiencing a serious or life-threatening trauma.
If you don't see the information you are looking for, please give us a call so we can answer your questions.