Restorative Dental Services
---
The right restorative procedures at the right time can reduce the need for additional dental work in the future.
---
While regular checkups and cleanings play a key role in good oral health, most patients will experience cavities, a chipped tooth, or other damage that requires experienced restoration. At Rangel Dental in Morristown, New Jersey, we offer a full range of restorative dentistry services to improve the function of the teeth and ensure a natural appearance. Learn more about our restorative dental care and other services for patients throughout Morris County to achieve the healthy, beautiful smile you've always wanted.
---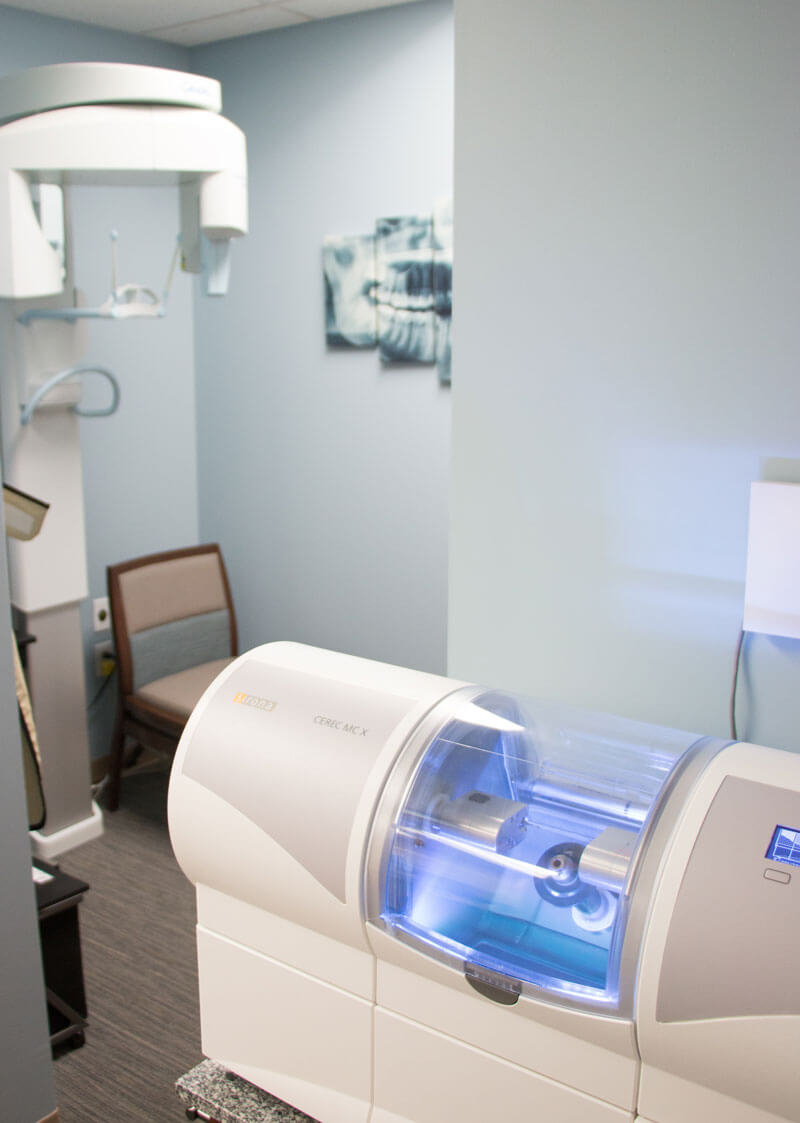 Our Biomimetic Approach to Restorative Dentistry
---
---
The best dental restorations blend seamlessly with nearby teeth. We achieve this goal with biomimetic dentistry, which emulates the natural biomechanical and esthetic form and function of the teeth when performing restorative care. Our biomimetic process includes:
Removing only damaged and/or decayed areas of a tooth
Preserving as much natural tissue as possible
Choosing porcelain and composite inlays and onlays for a lifelike look
Using stress-reduced direct composite restorations
Our team takes a conservative approach to produce strong, aesthetically pleasing results that look and function just like healthy teeth.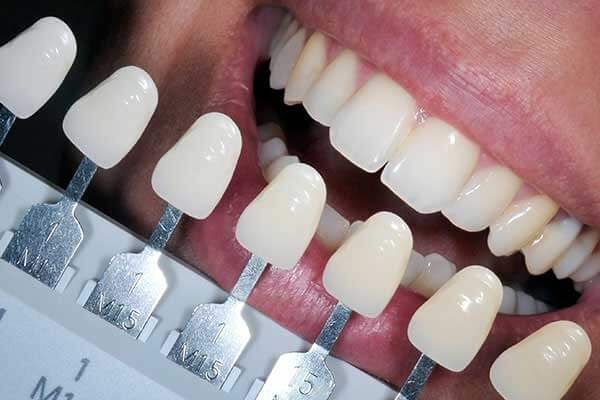 ---
While amalgam fillings were once the norm, modern restorative dentistry relies on composite fillings to repair decay. The material bonds directly to the tooth to support its remaining structure and offer a natural shade that is color-matched for accuracy. Additionally, these fillings offer enhanced strength and prevent temperature sensitivity.
When composite fillings are required, your dentist will remove the tooth by removing areas of decay. Next, they will choose the best color match for your teeth and fill the open space with layers of composite material. This material is cured with a special light to ensure optimal hardness, and all treatment can be completed in a single visit.
---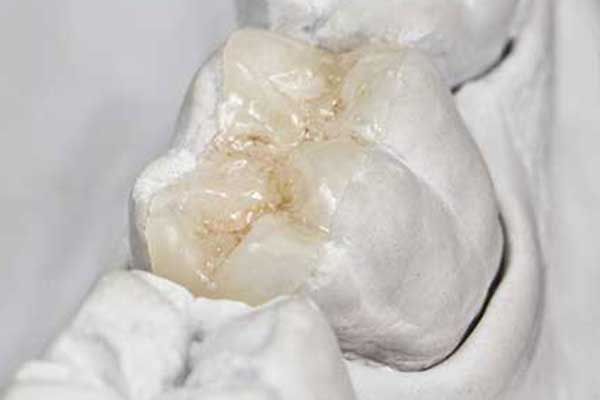 ---
Onlays and inlays may be used where more serious decay or damage occurs. Onlays and inlays are available in porcelain and gold, and your dentist will review the benefits of each type and work with you to determine the best option for your restoration.
Each inlay or onlay is custom crafted to fit your tooth and match its color with help from a digital scan. After fabrication, we ensure your restoration fits properly and securely bonds it to your tooth, where it will function just as the former natural surface once did.
---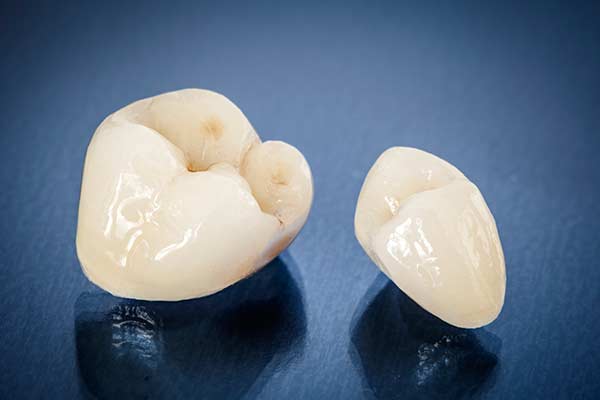 ---
These custom-made caps cover the outside of a tooth that has been broken, worn, cracked, or damaged by extensive decay. Your dentist will prepare your tooth and take an impression to ensure dental crowns are crafted to exact specifications. During a second visit, the crown will be cemented into place and will function as a permanent restoration.
Like inlays and onlays, the material used to create dental crowns will depend on your specific needs and the area of damage. Available materials include:
Ceramic
Porcelain fused to metal
Gold alloys
Zirconia
---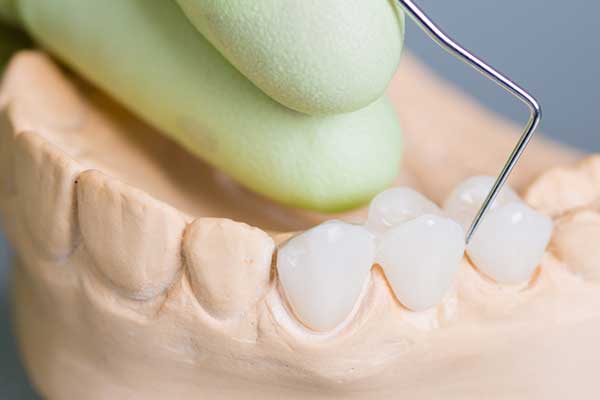 ---
When more than one tooth is missing but full dentures are not required, a dental bridge offers a natural-looking restoration. Damaged teeth will be removed, and the bridge will be affixed to surrounding teeth on either side. We offer several types of dental bridges, including:
Traditional
Cantilever
Implant-supported
Maryland
---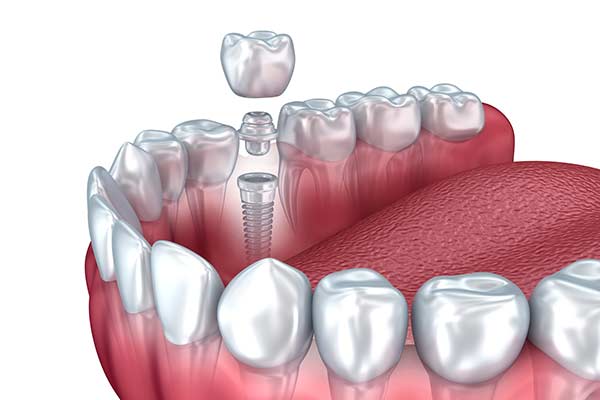 ---
Even less noticeable than other restorations, dental implants are installed in the jawbone to look and function just like natural teeth. Each implant includes:
A small, biocompatible titanium screw
An abutment to connect the screw and restoration
A restoration that looks like a tooth
This process requires several visits as damaged teeth are removed, the jaw is prepared to accept implants, and the screw fuses with the jaw. Once complete, you'll enjoy an attractive restorative option that is long-lasting and easy to care for.
---
Dentures
---
Dentures provide a full replacement for multiple teeth that rests atop the gums. These appliances do not require the support of remaining tooth structures and are an ideal option when many teeth must be removed due to significant damage or decay.
Patients may choose from full or partial dentures, removable and fixed options, and traditional or implant-supported designs. Your dentist will thoroughly examine your teeth and gums and help determine which option is right for you.
---
Learn More about Restorative Dentistry
---
If you experience discomfort, difficulty chewing or speaking, or a lack of confidence in the appearance of your teeth, restorative dentistry can improve function and aesthetics as well as quality of life. To learn more about our restorative dentistry services for Morris County in New Jersey, contact Rangel Dental today.